Jay Reeves Roofing a trusted Commercial Roofing Contractor in Okc Since 1988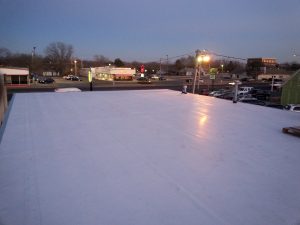 Flat-Low Slope:
Single ply T.P.O. -P.V.C.-E.P.D.M.
Tapered systems for positive drainage
Modified bitumen cap sheet
Hot mop re-surfacing extends the life of an aging built up roof
Elastomeric and polyurethane coatings extend roof life and add energy savings
Commercial roof drains and wall scupper drain installation
Sloped Roofing:
Hand nailed hail resistant composition
Hand nailed heavyweight lifetime composition
R panel, PBU panel, Standing seam and stone coated steel
Cedar shingles, shake shingles
Tile
Slate
Comprehensive Maintenance Programs:
Designed and tailored for building owner needs and roof system manufacture requirements. Without causing downtime for occupants.
Routine Maintenance will extend the usable life of any roof system.
Call for details.
Roof Replacement:
We can install a new roof on your commercial business with little to no disruption to your staff and customers. From minimizing our usage of parking spaces to always maintaining a clean, safe work environment.  We do our best to stay behind the scenes of your day to day operations.
Roof Repair:
We have repaired and STOPPED thousands of leaks over our 30 years in business in the Metro and on every type of roof system.  Our experience in locating and stopping hard to find or "mystery" leaks is unmatched as described by our customers written reviews on Google and at the BBB. We guarantee our work in writing. Call for a free quote.
Ponding Water:
Does your flat roof hold or "pond" water after the rain?
Water that collects or ponds on a flat roof is troublesome for a variety of reasons other than the obvious issue of excessive weight causing further stress to the structure as well as to the roof seams and sealed joints causing leakage and ultimately roof failure. We can stop water from collecting on your flat roof by installing a roof drain or a wall scupper drain. We can even install a tapered insulation system or cricket under the roof covering directing water to drains or the roof edge and into gutter. We have the solution for draining a flat roof if water is present on your flat roof 48 hours after precipitation ends. Call for a Free inspection report.
Roof Penetrations for H.V.A.C.:
We will work in coordination with your heat and air contractor to seal gas pipes, electric lines, ducts etc.. Installation of pitch pans, A/C curbs and weather tight flashing.
www.jayreevesroofing.com
www.tamko.com
www.jm.com